Book
"akvalife
water
of
life
—
100
diseases
medicine"!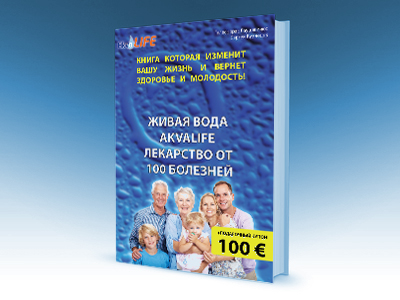 About how to revitalize an organism and live without diseases, You will learn from the best experts and doctors in their field: Telesforas Lautsyavichyus, Pyatras Shibilskis, Sergey Kuznetsov.
Chapters of our book are devoted to these and other questions.
From our book You will learn about the reasons due to which an organism gets lowered immunity and emergence more than 200 diseases, including oncology, far-sightedness, cataract, fragility of tooth enamel and teeth, chondroses and arthroses, decrease in density of bones (osteoporosis), hypofunction of a thyroid gland, myocardial infarction, diseases of vessels, joints and blood, hypostases, headaches, sleeplessness, hypertension, heartburn, disorders of the liver and kidneys, diabetes, atherosclerosis, prostate adenoma, allergies, hair loss and others.
Our book will teach and help You by natural means to revitalize the organism and to take care about health of relatives!
Book price: 10 euros
AS A GIFT You will receive "Complete collection of recipes from diseases" from the pioneer of hydrotherapy - doctor Pyatras Shibilskis!
Revitalize Your organism and return health with ionized alkaline, acid and silver AKVALIFE water. The collection has simple and effective recipes from more than 100 diseases!
Language: Russian, Latvian